Childcare Center
>>
Kansas Child Care Centers
>> Schoenchen Childcare
Schoenchen, KS Child Care Centers
There are no child development centers in Schoenchen, KS. Below are some preschools and child care centers nearby. Simply click on the links below to learn more about childcare centers near Schoenchen that are dedicated to providing families with safe, quality childcare. You can also read reviews about various childcare providers to learn more about which is the right choice for your family. We always welcome comments and corrections, to better the browsing experience on our site.
Hays, KS 67601 | (785) 625-3257
Our Mission Statement: To provide and promote quality care and educational experiences for young children and families.
Hays, KS 67601 | (785) 625-3257
Hays Area Children's Center Mission: To provide and promote quality care and educational experiences for young children and families. HACC was first named the Hays Daycare Center for Exceptional Children and founded in the spring of 1966 through the combined efforts of parents, the Special Education Department at FHSU, and The Arc of Central Plains. Our current programs and services include: Licensed Child Care, Preschool, Infant Toddler Early Intervention, Healthy Start Home Visitor, and School Age Summer Program.
Hays, KS 67601 | (785) 623-2630
Our Mission: Empowering families to live the possibilities by nurturing children, family and community connections
Hays, KS 67601 | (785) 623-8791
Learning Lane Preschool:The purpose of Learning Lane preschool is to guide young children in their learning and socialization skills they need to learn before they begin Kindergarten. The environment will be a safe and loving environment. Learning opportunities will be offered socially, emotionally, intellectually and physically. Children will be encouraged to express themselves and share in the activities in the classroom. Play is an important part of a child's social development and will be incorporated into the activities of the day. During this time children will learn to play with others and use their imagination to create. The classroom will offer a Christian atmosphere that is reinforced with the teachings of peace, kindness, caring, sharing, loving one another and forgiving one another.
Hays, KS 67601 | (785) 625-3131
In union with the family and the Church, the Catholic schools of the Diocese of Salina strive to prepare young people to impact the world for Christ and to attain their eternal destiny by providing a Catholic learning environment, based on the values of Jesus Christ that promotes academic excellence, develops spiritual, physical and emotional well being, fosters mutual respect, demands moral responsibility, encourages self-growth, and nurtures Christian service to others.
Hays, KS 67601 | (785) 628-4101
Tiger Tots Nurtury Center provides a combination preschool/childcare facility for children of Fort Hays State University students, faculty and staff. Our main goal is to provide a positive and safe environment which will promote the social, physical, intellectual and emotional growth of each child. Our hope is that by providing a nurturing atmosphere the children will be encouraged to be creative, independent and responsible individuals. The staff strongly believes in the importance of providing a diverse curriculum that is both age and developmentally appropriate. Our values and beliefs about children are based on personal experiences and educational research regarding how young children develop through a combination of play and structured activities.
Hays, KS 67601 | (785) 628-2573
New Beginnings Preschool loves the fact that although we may see just a common butterfly, through a childs eye they see so much more! New Beginnings Preschool offers classes for 3 year olds in the mornings on M,W,F and 4 year olds in the afternoons on M,W,F.
Hays, KS 67601 | (620) 779-2460
The Learning Cross Preschool is a Child Care Center in Hays KS. It has maximum capacity of 24 children.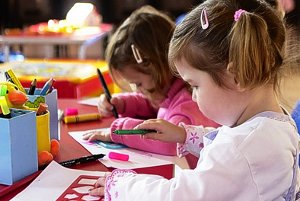 Hays, KS 67601 | (785) 650-0165
At Shining Stars Preschool I believe: Children should be in a welcoming setting in their early years where they feel safe and happy; Physical, mental, social, and emotional learning should happen as a result of fun, developmental activities; Children should learn how to relate to others with respect and honesty; Time should be allowed for children to play and learn individually and in groups; Parents and teachers should work together as a team to provide a positive experience for the children. My Philosophy as a teacher: The early years of children's lives are the most critical when it comes to their development. They are growing and learning at a phenomenal rate. I believe that it is very important to have a child in an environment that is consistent and secure. Children need to be able to form secure attachments not only with their parents but also their teachers/caregivers. Simply being in a loving and nurturing environment forms these types of attachments. I want the children to feel as comfortable and secure as they would in their own home. I will strive to provide a safe, comfortable, stimulating, fun, and educational environment with a structured day plan. Activities will include free playtime, structured playtime, gross (large) motor skills playtime, fine (small) motor skills activities, story time and theater activities, arts and crafts, music and dance activities, nature and ecology awareness, nutrition, cultural activities, and other educational yet fun activities. I will also encourage good personal hygiene skills and manners. Through a mixture of guided and undirected creative play, children in my preschool will have the opportunity to learn about color, shapes, textures, numbers, letters, animals, seasons, feelings, senses, nutrition, personal hygiene, manners, basic science and math concepts, and creative concepts such as "pretend" play, art, music, drama, and dance. These are all things that most preschoolers are able to learn through creative, educational play. Each child will be allowed to learn at his/her own pace. I will not force a child to achieve developmental milestones. There will never be pressure on a child to learn something faster than he/she is able to.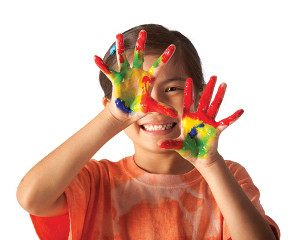 Hays, KS 67601 | (785) 625-2518
We have 2 classrooms-12mo to 3 years, 3 years-kindergarten age. We believe that children grow and develop when surrounded by love in a secure and stimulating environment. Children learn best through play and hands-on experimentation, interacting with peers and adults. We will provide developmentally appropriate early childhood experiences that stimulate learning in all developmental areas. We will provide an atmosphere that will facilitate a balance between child-initiated, child directed, and teacher supported interactions!
Thank you for using ChildCareCenter.us. We are constantly enhancing our website to better service you. Please check back frequently for more updates. If you have any suggestions, please contact us. We appreciate your business and feedback very much.