There are no child development centers in East Liberty, OH. Below are some preschools and child care centers nearby. Simply click on the links below to learn more about childcare centers near East Liberty that are dedicated to providing families with safe, quality childcare. You can also read reviews about various childcare providers to learn more about which is the right choice for your family. We always welcome comments and corrections, to better the browsing experience on our site.
Raymond, OH 43067 | (937) 246-2861 | 6.2 miles away
At Raymond, as part of our work around our Vision and Identity, we have defined as a staff the Habits of Mind we want to grow in our students.  By the time our students leave us we want to see our students displaying these characteristics and traits ...
Bellefontaine, OH 43311 | (937) 599-2386 | 6.8 miles away
The goal for every teacher in each center is to help every child learn the tools they need to be ready to enter school and to be successful. The teaching plans and the materials utilized with every child are based on the most current standards in e ...
North Lewisburg, OH 43060 | (937) 747-3447 | 7.6 miles away
We are a Christian Child Care Center licensed by the state of Ohio. We offer child care for ages 6 weeks through 5th grade.We have morning Preschool classes from 9:00 to 11:00. We teach with the Creative Curriculum. We are located in the North Lewisb ...
Bellefontaine, OH 43311 | (937) 592-6624 | 8.6 miles away
Noah's Ark has an immediate opening in our Toddler 1 classroom. This class consists of children ages 18 months – 2 ½ years old. Interested applicants must have a warm and friendly personality, be sensitive to the feelings and n ...
Bellefontaine, OH 43311 | (937) 592-2009 | 8.6 miles away
The Discovery Center for Children is an integrated preschool program for children, ages 3-5. Public Law 99-457, a federal law, requires that school districts provide special education services for children 3-5 who are experiencing significant delays ...
Bellefontaine, OH 43311 | (937) 292-3036 | 9.2 miles away
The mission of Kids Learning Place is to focus on the individual needs of each child so that their time with us is filled with learning, growth and relationships with new friends and teachers.
Bellefontaine, OH 43311 | (937) 593-2347 | 9.3 miles away
LITTLE LEARNERS CHRISTIAN DAY SCHOOL is a Licensed Child Care Center in BELLEFONTAINE OH, with a maximum capacity of 94 children. This child care center helps with children in the age range of Toddler (6), Pre-Schooler (52), School Age (36), Toddler ...
Bellefontaine, OH 43311 | (937) 592-5437 | 9.5 miles away
The purpose of First Christian Church Kids Corner Preschool is to provide a variety of opportunities and experiences to promote physical, emotional, social, cognitive, and spiritual growth for children ages three to five years old. We do this from a ...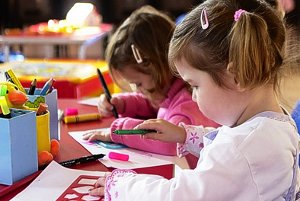 West Liberty, OH 43357 | (937) 465-7015 | 10.4 miles away
At Green Hills Child Care Center, we promote each child's self-worth and self-expression in a safe environment. We offer small class ratios, a secure playground area, intergenerational activities, sibling discount, breakfast/lunch/snacks, and much mo ...
North Lewisburg, OH 43060 | (937) 484-1557 | 10.5 miles away
The Triad Local School District is an amazing district that is committed to providing high quality educational opportunities for all of our students. We set high expectations for ourselves and our students. The Triad Board of Education, administratio ...