Childcare Center
>>
New Jersey Child Care Centers
>> Manalapan Childcare
Manalapan, NJ Child Care Centers
Child development centers in Manalapan vary in size as well as in scope. While some offer progressive curriculums and the latest advancements for preschools, others are more intimate daycare centers that take a more relaxed approach to childcare. Whatever your priorities, finding the right daycare center for your child is important. We've made the seemingly overwhelming task easier by collecting basic information such as size, location, and licensing information for child development centers in Manalapan into a single location. Simply click on the links below to learn more about Manalapan childcare centers that are dedicated to providing families with safe, quality childcare. You can also read reviews about various childcare providers to learn more about which is the right choice for your family. We always welcome comments and corrections, to better the browsing experience on our site.
| | |
| --- | --- |
| | |
Manalapan, NJ 07726 | (732) 536-8181
We are so excited to have you join us and we welcome you to Manalapan Montessori school. We believe that nurtured children will develop best in a prepared environment, at their own pace. This idea is reflected in the Montessori Method, developed by Dr. Maria Montessori who began her career in Rome in 1907 and whose methods continue to prove themselves in today's society. She was astonished to see that little ones were intensely attracted by the manipulative materials, working spontaneously and repeatedly with them in total concentration. At Little Rose Montessori School, we go about the quote "Follow the child" written by Dr. Maria Montessori. The idea that learning is best accomplished when students are motivated, interested and allowed to satisfy their own curiosity was radical 100 years ago, but today, it is the center piece of a real Montessori education. Our qualified teachers provide support, encouragement and guidance, all in an atmosphere of courtesy and grace.
Manalapan, NJ 07726 | (732) 446-3636
Pied Piper Preschool and Summer Camp has been in operation for over forty years. This homey preschool is a state licensed facility and located on 4 acres beautifull land.  The curriculum is innovative and creative. Children are encouraged to explore their surroundings and learn through play. The staff is nurturing and kind. Our day to day activities in math, reading, science, language development and both fine and gross motor skills. We encourage the child to become an independent, self-directed learner by allowing children choice in their work, as well as build kindergarten readiness through the development of positive self-esteem. Our students participate in decision making, adjust to routines and transitions, socialize with other children in age appropriate manners both inside and outside the classroom, and are also encouraged to respect classmates, teachers and themselves. These goals are achieved through a variety of hands-on activities and experiences that address the whole child and seek to make learning fun. Our professional staff ensures that individual needs are met and nurtured in a warm, loving and supportive environment. Our goal is for every child to leave our school with a solid foundation on which knowledge and positive self-esteem can grow and flourish. We are always available to answer any questions you might have. Please call us at 732-446-3636 or you can stop in and take a look around. Our address is 337 Iron Ore Rd Manalapan, NJ 07726. On site visits are encouraged
Manalapan, NJ 07726 | (732) 972-1400
From the first 'hello' of the day, to the last 'good-bye', we want every child to feel safe, nurtured and excited to learn and grow with us, and for you to consider us a true partner in the development and education of your child. You have trusted us to care and educate your children for many years as Rainbow Academy child care centers and as your little ones have grown so have we! In 2014, Rainbow Academy changed our name to Lightbridge Academy. Lightbridge Academy is the same family, just a new name. This new name reflects the evolution of who we have been, how we have grown and the future that we are embracing. It all begins with our Circle of Care philosophy, which empowers everyone within the Lightbridge Academy family to create a one-of-a-kind educational experience for the children we care for and the families that cherish them.
Manalapan, NJ 07726 | (732) 446-7035
Campers come to Ivy League for the fun! We want campers to be the BEST THEY CAN BE in a safe and nurturing environment. Ivy League Day Camp has been accredited by The American Camp Association for over 35 years. At Ivy League Day Camp experienced and caring role models (counselors) are constantly encouraging campers and building their self-esteem through well rounded supervised activities. With our low camper to counselor ratios and our expertise in Childhood Education, combined with our strong camping program, we offer a SAFE, FUN FILLED and UNIQUE summer experience. Campers are under the careful supervision of mature staff that is well aware of the social, physical and emotional needs of children. Counselors and Activity Specialists work together to make that initial adjustment to camp an easy one.
Manalapan, NJ 07726 | (732) 462-3264
The Temple Shaari Emeth Early Learning Center is located at 400 Craig Road, Manalapan, New Jersey 07726. We offer Parent & Me, Preschool, Kindergarten and Summer Camp programs, and we are very proud of our 40+ years in early childhood education. We are a Reform Jewish synagogue where all are welcome. Our well-balanced curriculum immerses children in Jewish culture, traditions and values, and we provide a warm and nurturing atmosphere in which we encourage children to experience, discover, learn and grow.
Manalapan, NJ 07726 | (732) 462-0015
The managing partners from The Learning Experience®, Manalapan, NJ took what was already the best child development program in the country and enhanced it to make it their own. Their goal is to be the absolute best in the industry. Offering programs and outstanding curriculum for 6 weeks through Kindergarten, The Learning Experience in Manalapan is conveniently located off Highway Route 33 at the Freehold/Manalapan border near The Freehold Raceway Mall. Situated by grass and greenery, the facility is far removed from strip malls, busy highways and other industry and business. It is nestled on its own private enclave providing privacy and security. Like all Learning Experience centers, the Manalapan location has state-of-the-art security to keep little ones safe and provide comfort to families. Parents will be further impressed with the center's cleanliness. The partners are adamant about keeping a pristine facility. Unique programs set this center apart from others. The Learning Experience in Manalapan welcomes each new parent with a kiss and cry package that helps families get through that very first day. The school keeps portfolios for each student with self-portraits and student interviews which are sure to be a family keepsake when presented upon graduation. The school is also sensory smart. Its sensory programs were developed in conjunction with top occupational therapists to provide a well-balanced sensory diet vital to child development. The Manalapan location also offers its students a creative writing studio and listening center for different types of free time. Children will also enjoy the many different enrichment programs that rotate throughout the year. Some of the classes include phonics, art, dance, music and science. Enrichment is provided to each and every student at no additional charge to parents.
Manalapan, NJ 07726 | (732) 462-0464
School Age Child Care extends your child's learning day in a fun and meaningful way! With a focus on character development and healthy living, children experience academic physical and social activities under the supervision of positive, caring role models. Parents enjoy peace of mind knowing their school-age children have NJ State Licensed, safe, healthy options before and after school–right in their child's school. Serving public elementary schools in Colts Neck, Freehold Borough, Freehold Township, Manalapan & Millstone.
Manalapan, NJ 07726 | (732) 446-4747
ABC Spectrum Preschool implements the High/Scope developmental approach to learning. "In the High/Scope educational approach, children are active learners, supported and challenged by adults. The content of preschoolers' learning is guided by 58 key experiences in language and literacy, mathematics and science, social-emotional development, physical development and the arts. The heart of the High/Scope approach is the plan-do-review sequence in which children make choices, carry out their ideas, and reflect on what they learned. These activities promote initiative and independence. In addition, children engage in group activities, socialize during meals, develop self-care skills, and exercise large muscles during outdoor time."*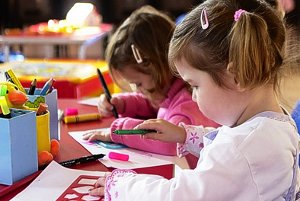 Manalapan, NJ 07726 | (732) 446-3107
For 20+ years we have been bridging the gap between academics, religion, and socialization. We look forward to sharing this experience with your family. Come in and see what all the fun is about!
Manalapan, NJ 07726 | (732) 446-5155
The Goddard School uses the most current, academically endorsed methods to ensure that children have fun while learning the skills they need for long-term success in school and in life. Our talented teachers also collaborate with parents to nurture children into respectful, confident and joyful learners.
Manalapan, NJ 07726 | (732) 446-3636
Kickin It Kids is a Child Care Center in Manalapan NJ. It has maximum capacity of 15 children. The center accepts children ages of: 2½ to 13.
Manalapan, NJ 07726 | (347) 733-8772
Royal Montessori Academy is a Child Care Center in Manalapan NJ. It has maximum capacity of 60 children. The center accepts children ages of: 0 to 13.
Manalapan, NJ 07726 | (732) 972-1400
Tristar Learning Institute, LLC DBA Lightbridge Academy Mana is a Child Care Center in Manalapan NJ. It has maximum capacity of 171 children. The center accepts children ages of: 0 to 13.
Thank you for using ChildCareCenter.us. We are constantly enhancing our website to better service you. Please check back frequently for more updates. If you have any suggestions, please contact us. We appreciate your business and feedback very much.