Welcome to Child Care Centers!
You've found the most comprehensive collection of information about childcare centers in the U.S, with 115,348 licensed childcare centers and 143,855 home daycare providers. Selecting a childcare center for your children is one of the most important decisions we make as parents. It's important to choose a preschool or home daycare to which children love to go and where safety is of the utmost concern. We know working moms and dads are busy, though, so to make your job easier, we provide access to over a hundred thousand preschools and home daycare centers in all fifty states from a single portal. Rather than spending hours performing internet searches or scouring phone books just to find out which centers are in your area, simply choose your state to view facilities near you. Feel free to use the Quick Search box on the page to find the perfect child care solution for you!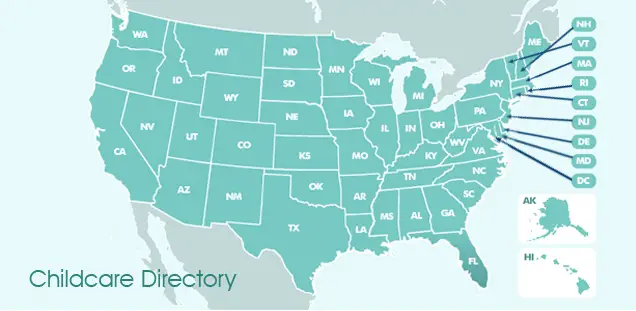 If you have prior experience with any of the providers in our list, please share your experience and rate the provider to help other parents make a better choice for their kids.
Most Recent 4 Star and 5 Star Reviews:

Comment: I have two daughters that attend this day care and they do so well with my kids. They learn so much from the day care. And my oldest loves to pray over our meals because the day care has taught her how to pray. I love this day care... more
Comment: I Love The Childcare Network Center It Saved My Job, They make you feel so at home and welcome from the time you enter until the time you leave. I sometimes feel bad that I be taking my child there at 8 or 9 when they open at 6:30 but that'... more
Comment: My child been in this daycare for 3mos.He is in the 3yr old class.He was not ready for school until I tool him to Kids Quest.Yes when I go to pick him up on days it's raining they running around playing.But I always get his paper of what he... more
Comment: The best day care in Mt Vernon, Mrs Pauline and Miss Shamalia have the Children at heart.... more
Comment: Two of my kids were with Zelda when they were little. I highly recommend her. I feel they learned important values in addition to receiving excellent care. The kids aren't in front of the TV all day, and Zelda has a nice outdoor area for... more
New child care provider updates:

Description: My Day Care is based on having a small ratio so that I can attend to the child/childrens needs fully. I want to have a program that gives the children the sense of a Home away from Home. I offer a safe, caring enviroment that children c... more
Description: Sign your kids up now for Highland Park Affordable Child Care near you open 7:00am thur 12:00am, a safe and friendly happy environment for kids to learn and grow, positive computer skills, snacks breakfast lunch and dinner everyday for grow... more
Description: I offer licensed child care, in a loving, safe, creative and fun environment. I am certified in CPR AED (Infant and Child), First Aid, SIDS and Disaster Preparedness. I have over 40 clock course hours in Family Diversity, Caring for Childre... more
Description: I am a registered home provider I am CPR and first aid certified. I also hold an early childhood education (CDA) and many other training credits. I Provide a loving,caring, family safe invironment. That is stimulating for all the children.... more
Description: Hello I am a former Polk County School Board Educator, with years of experience providing care and educational guidance to the youth of Polk County Florida... more